Just arriving in Venice and needing a tasty bite? Perhaps you're on your way out and crave one more delicious local seafood bite. Either way, you're near the Venice airport and looking for something to eat. As in many Italian regions, the city has developed its own special cuisine that you will miss when you leave.
There's a huge variety of local dishes. Based mostly on seafood ingredients like sardines and cuttlefish but also other interesting elements such as liver, there are plenty of unique Venetian creations for you to try! However, out near the airport, choices are limited.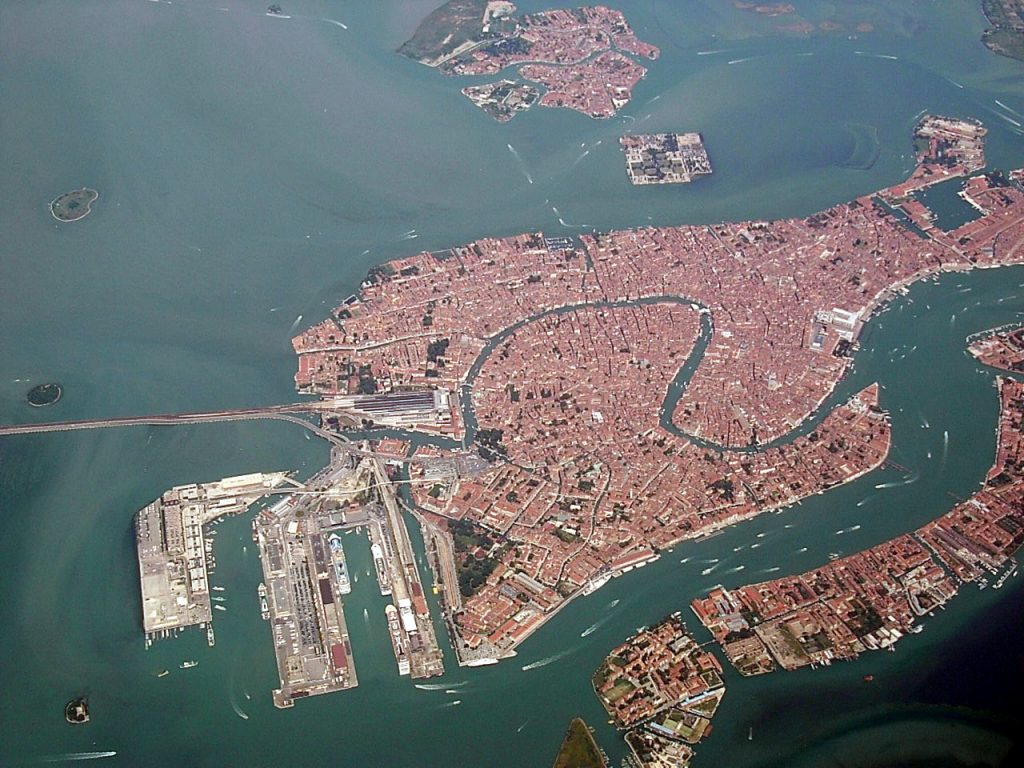 The variety of gourmet restaurants and their hand-selected ingredients simply can't be found that far from the city center. Most of the choices are fast food chains. However, some places still serve delicious, authentic dishes within a short distance from the terminal. Staying at an airport hotel? These are the best choices for you. Read below for our guide to the best restaurants near Venice airport!
(This article contains 3 restaurants near Venice airport, which are best in our subjective opinion. The order of the restaurants is not related to the quality they offer. Every restaurant has its pros and cons, so choose the one based on your personal preferences.)
Ai Do Fogheri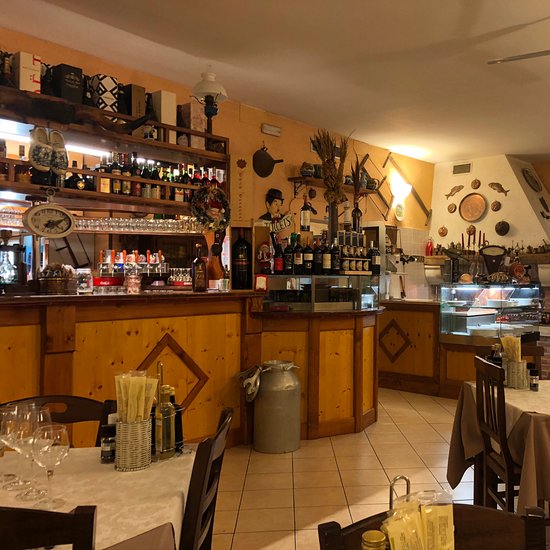 Just walking distance from the departures terminal, this restaurant is the perfect spot for a first or last meal in the Venice Lagoon area. Its rustic interior harkens back to Venice's position as a fishing community and trading center, with maritime objects and Roman-style ceramics hanging on the wall. It's small but spacious and can comfortably accommodate small groups. Tourist or local, you'll be welcomed with a smile.
Venice's cuisine is well-represented on the menu, but you can try lots of other Italian dishes here! They have a huge selection of fish and meat dishes, but also pasta and salads. No matter what you try, their menu offering is sure to please all guests.
Start off your meal with a tasty seafood salad complete with shrimp, mussels, mini octopus, and more on a bed of arugula. Then, move on to one of their many delicious pasta dishes. You can choose from lasagna, seafood mix pasta, or some tasty pasta with pesto sauce! When it's time for the third course, you're in for a treat!
Get a taste of Venice with some grilled seabass or cuttlefish in ink with polenta. If you prefer something else, juicy steaks and lamb chops are waiting to be devoured. If you've got room for dessert, their tiramisu is sure to impress.
The restaurant is open for lunch from 12:00 PM (12:00 hours) to 3:00 PM (15:00 hours) and from dinner from 6:30 PM (18:30 hours) to 11:00 PM (23:00 hours) every day except Thursday, when they are closed all day. Due to the distance from the center, you're unlikely to have to wait for a table. However, if you have limited time before your flight, you can call or email them through the contact page on their website. They also host events and parties.
Distance: 2 kilometers (1.2 miles) from Venice airport
Phone: +39 041 541 6107
Al Quadrante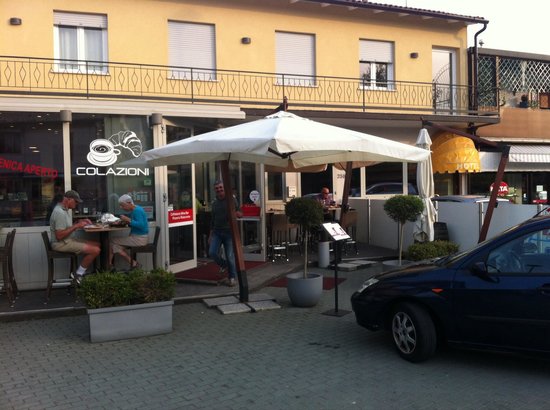 Also, down the street from the terminal, you can try a huge variety of Venetian and Italian classics in a laid-back dining room. This is an excellent option if you're staying at one of the airport hotels, as it's located between the Courtyard by Marriott and Titian Inn.
The restaurant prides itself on serving the international population thanks to its proximity to the airport, but also that it's frequented by locals in its hometown of Mestre.
It's already built up a reputation as a local favorite since it first opened its doors in 2011. They welcome all parties, from couples to birthday parties. Sports fans will be relieved to find out they can watch matches on one of the restaurant's many TVs.
Their menu is much bigger than those of most other restaurants in the area, and they have something for everyone. A huge menu of starters like Caprese and cured meats await the weary travelers who walk through their doors.
For your first course, you can do as the Venetians do with bigoli pasta in sauce or have it your way with a variety of other pastas. Your second course has many options, ranging from more local flavors like seabass or even something beyond their borders like burgers and fish and chips.
They're open daily to serve hungry travelers from 12:00 PM (12:00 hours) to 2:30 PM (14:30 hours) and from 5:30 PM (17:30 hours) to 10:00 PM (22:00 hours). Their pizzeria only operates from Friday through Sunday from 5:30 PM (17:30 hours) to 10:00 PM (22:00 hours). If you're short on time, contact the restaurant by email or phone to reserve your table.
Distance: 1.6 kilometers (1 mile) from Venice airport
Phone: +39 041 269 9154
Marco Polo Club Lounge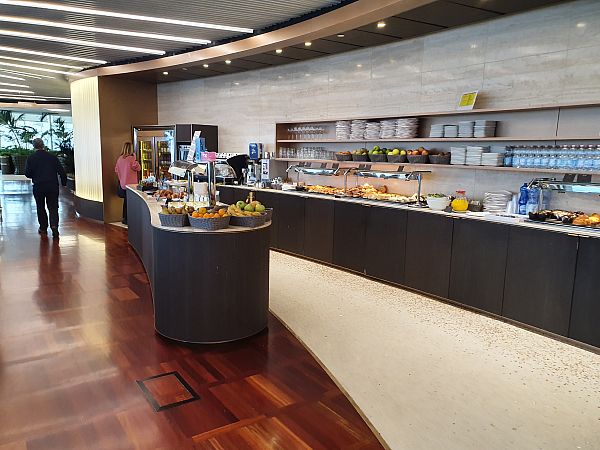 Dine in style at Venice's Marco Polo airport lounge. For all travelers departing from this airport, a lounge is a great option for a last-minute taste of the city.
One common misconception about lounges is that they're some kind of VIP zone that's off-limits to economy travelers. That couldn't be further from the truth! If you're traveling from this airport, go to the lounge entrance after passing through security. Simply pay the 40 euros entry fee, and you're in!
The lounge is equipped with plenty of comfortable spaces to relax in and high-speed wi-fi. More importantly, there's a massive spread of complimentary food and beverages! Traveling with the family? Good news: kids under 12 get in free!
They serve food buffet-style. The specific dishes and snacks on offer differ based on the time of day, but there's always a sizeable variety of pastries, sandwiches, fruit, sweets, and much more. Meals are available at certain times of the day. These usually feature local flavors, such as Italian pastas and hors d'oeuvres.
Traveling early in the morning? Coffee's available free for lounge customers. However, this isn't self-service coffee. There's always a barista onsite to make your drink for you. Alcoholic beverages and soft drinks are available upon request, too.
The lounge is open for guests from 5:00 AM (5:00 hours) to 10:00 PM (22:00 hours) every day. Get there early and take full advantage of the tasty treats the lounge has to offer. Keep in mind that if you're flying to a destination outside of the EU's Schengen zone, allow yourself plenty of time to get through passport control because the lounge is after security but before the border.
Distance: Right at Venice airport
Phone: +39 041 260 9260
Where are the best restaurants near Venice airport?
If you have some free time at Venice airport, and hunger catches you, you should know that there are not so many good restaurants out there. Still, if you are in need, a few restaurants will do the job. Most of them you will find in the Tessera district, a few kilometers from the airport. All of these restaurants serve pretty basic food, so they will be okay for everyone.
Check out more articles about Venice:
Hey there! Some links on this page are affiliate links which means that, if you choose to make a purchase, we may earn a small commission at no extra cost to you. We greatly appreciate your support!