Recent studies show that around 8% of the world's population is vegan. If we consider that Venice receives approximately 36 million tourists each year, we get a number of almost 3 million vegan tourists that come to this lovely place in a year.
Vegan nutrition, for many people, is no longer a simple choice but a necessity. First of all, vegan nutrition is more sustainable for the planet than those that include animal products. Secondly, our body has many benefits, such as low blood sugar level and lower cholesterol.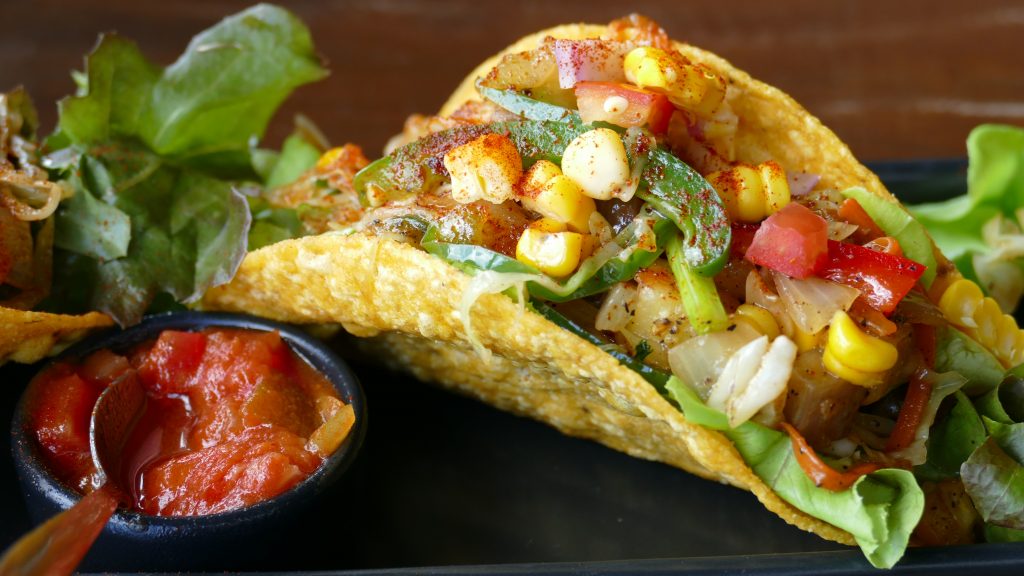 Therefore, demand for vegan restaurants is rising every year, and new businesses are constantly being open to meet the needs of this growing trend. Venice has enough restaurants that serve only vegan dishes or have a separate vegan menu.
Still, vegan ones are not always easy to find in thousands of different restaurants. Because of that, we will show you the best vegan restaurants in Venice.
(This article contains 3 vegan restaurants in Venice, which are best in our subjective opinion. The order of the restaurants is not related to the quality they offer. Every restaurant has its pros and cons, so choose the one based on your personal preferences.)
Crepes House by Pepe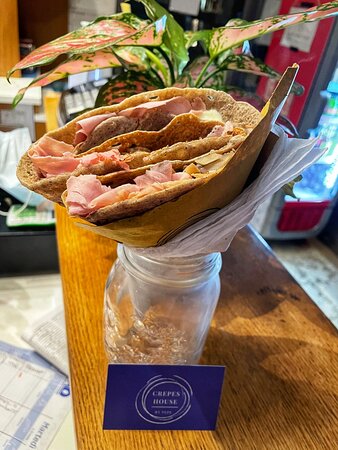 Crepes House by Pepe is a tiny little place on the side of the canal that offers delicious, beautifully filled crepes for a reasonable price. A crepe is a very thin type of pancake which is very soft but has irresistible buttery crisp edges.
There is a huge vegan range of savory and sweet crepes, and the owner can help you through the impressive menu options if you are unsure what to choose. The ingredients are fresh and healthy, the combinations are very original, and you can even create crepes by your own wishes. Also, this restaurant has probably the best vegan Cafe Latte in the area.
Crepes House by Pepe has only a few tables, but you can get crepes for takeaway and grab a drink too. It is located right by a less populated canal, so it's not loud, and you can easily find a spot. Also, this lovely crepes place has a basic appearance, so it is easy to miss, but it is totally worth it to go off the beaten path and have breakfast or lunch away from the busy streets and crowded center of Venice.
Prices are really reasonable for the quality and size. However, because the owner is working alone and preparing every crepe one by one in front of you, be prepared to wait a little bit longer. Also, the owner is very friendly and happy to adapt the menu and work around allergies.
Crepes House by Pepe is located in Fondamenta San Giobbe 548/B, which is around 2.2 kilometers (1.4 miles) away from St. Mark's Square in Venice. It is open every day except Wednesday from 10:30 AM (10:30 hours) to 3:30 PM (15:30 hours) and from 6:30 PM (18:30 hours) until 9:30 PM (21:30 hours).
Distance: 2.2 kilometers (1.4 miles) from St. Mark's Square
Phone: +39 345 307 3333
La Tecia Vegana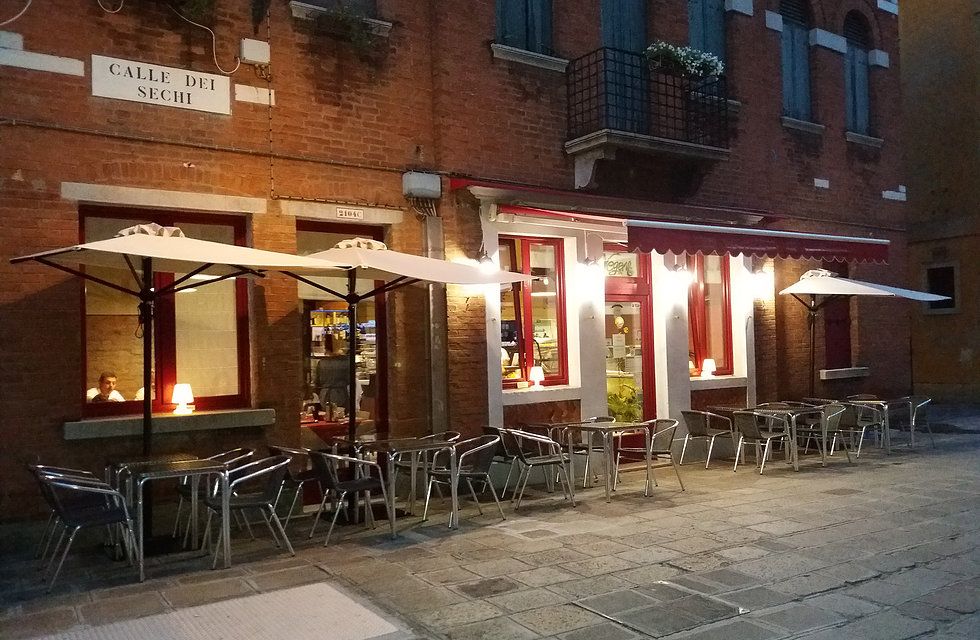 La Tecia Vegana is a lovely restaurant in a discrete street near the university, away from the crowded center of Venice. It is an urban area with quiet residential buildings, beautiful bridges, and many young people hanging around.
The restaurant has a menu that is 100% vegan, so there is a huge variety of delicious vegan dishes made of high-quality ingredients for plant-based protein, such as seitan, lentils, nuts, and seeds.
Particularly good are desserts, such as vegan tiramisu, different pralines, hazelnut cake, and cheesecake. Prices are not cheap, but by Venetian standards not overly expensive either. We could agree that there is a good balance between the quantity and quality of food and the prices.
La Tecia Vegana has an outside and inside seating area. It is spotlessly clean and comfortable, and the staff is very kind and helpful with the menu selections. Keep in mind that you have to reserve a table in advance because the restaurant is always fully booked.
Overall, this restaurant is a hidden gem, and whether you are vegan, have a plant-based diet, or neither and love delicious food, it is totally worth visiting this place. La Tecia Vegana is located in Calle dei Secchi 2104, around 2.5 kilometers (1.5 miles) away from St. Mark's Square in Venice.
The best way to come to this place is by catching the Vaporetto to Santa Marta stop, and then you are only a short walk from there. The restaurant is open every Tuesday to Saturday from 12:00 PM (12:00 hours) to 2:00 PM (14:00 hours) and from 7:00 PM (19:00 hours) until 10:00 PM (22:00 hours).
Distance: 2.5 kilometers (1.5 miles) from St. Mark's Square
Phone: +39 041 524 6244
Sullaluna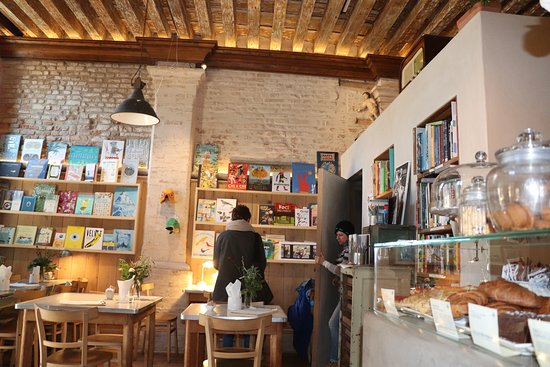 Sullaluna is a charming, low-key cafe and bookshop serving wine focaccia, cheeses, salads, and other simple dishes. It is located in a quieter area of Venice frequented by locals.
The interior is actually a bookstore specializing in beautiful children's books with jazz playing in the background and cozy lighting. On the other hand, the exterior has tables along the canal which are perfect spots to stop for a rest and relax.
This lovely cafe bar serves rather than actual dishes, so it is an ideal breakfast or light dinner option. However, the food is all homemade, very delicious, and prepared with a lot of care and love. You can find vegetarian and vegan plates, as well as some delicious bio desserts. If you are there in the afternoon, be sure to treat yourself to a glass of their Prosecco as they produce their own.
Prices are reasonable and average for Venice, and the staff is very attentive and friendly. Worth mentioning is that there are always fresh flowers on the table, and a great spacious and clean bathroom. Sullaluna is located in Fondamenta de la Misericordia 2535, which is 1.6 kilometers (1 mile) far from St. Mark's Square in Venice. It is open every day except Tuesday from 8:30 AM (8:30 hours) to 10:00 PM (22:00 hours).
Distance: 1.6 kilometers (1 mile) from St. Mark's Square
Phone: +39 041 722 924
Where to find the best vegan restaurants in Venice?
Even though demand for vegan nutrition is rising in the world, there are still not enough 100% vegan restaurants in Venice. Yes, more and more regular restaurants are adding vegan options to their menus, but it would be nicer if more of them specialized in vegan food. However there are a few completely vegan restaurants in Venice, but all of them are pretty far from the center, so prepare yourself for walking.
Check out more articles about Venice:
Hey there! Some links on this page are affiliate links which means that, if you choose to make a purchase, we may earn a small commission at no extra cost to you. We greatly appreciate your support!