Lido is a strip of land and sand, 12 kilometers long and one kilometer wide, that acts as a barrier between the lagoon and the Adriatic Sea. This thin, narrow, and long island has been inhabited since ancient times, but it was especially loved by poets, writers, and intellectuals around the 1920s. Nowadays, the island is an elegant and refined seaside resort still unknown to mass tourism.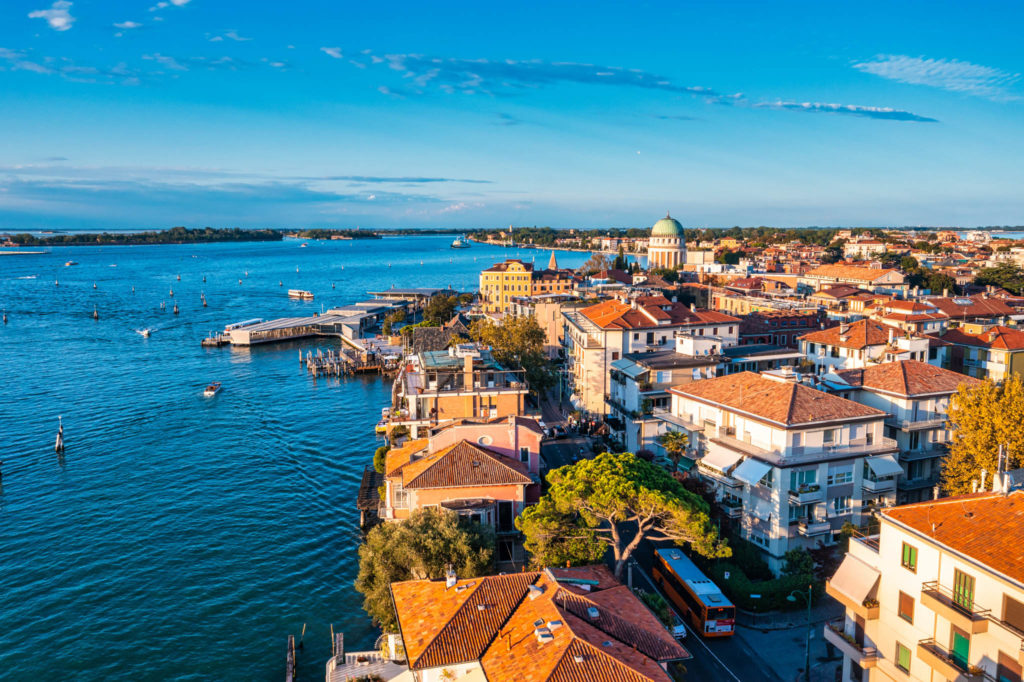 The crowds come here only for the Film Festival and summer vacation, so the place is quite peaceful for the rest of the year. Getting here is also not a big problem. You can take a direct Vaporetto line from Piazza San Marco and reach this lovely island in only 10 minutes. Therefore, you should include Lido in your travel itinerary, especially if you are staying in Venice for a few days. Here are all the things you can do in Lido Venice:
Relax on the beaches
Lido has 10 kilometers of beautiful beaches that have been awarded the Blue Flag since 2009. This means the water is super clean and still, so it is perfect for swimming. The main features of the Lido's beaches are fine and golden sand, bathing establishments, and their famous huts. These are large changing cabins with external verandas, which are very popular among Venetians who rent them for the whole summer season and share them with relatives and friends.
They are actually a meeting place for games and meals with a sea view. These lovely huts are colored and in various shapes according to the taste of each manager. The main beach on the island is called Blue Moon. Parts of the beach near the hotels are paid for, but there is still a huge part that is free for all. The seabed sinks gently, so the beach is suitable for learning to swim, even for the little ones.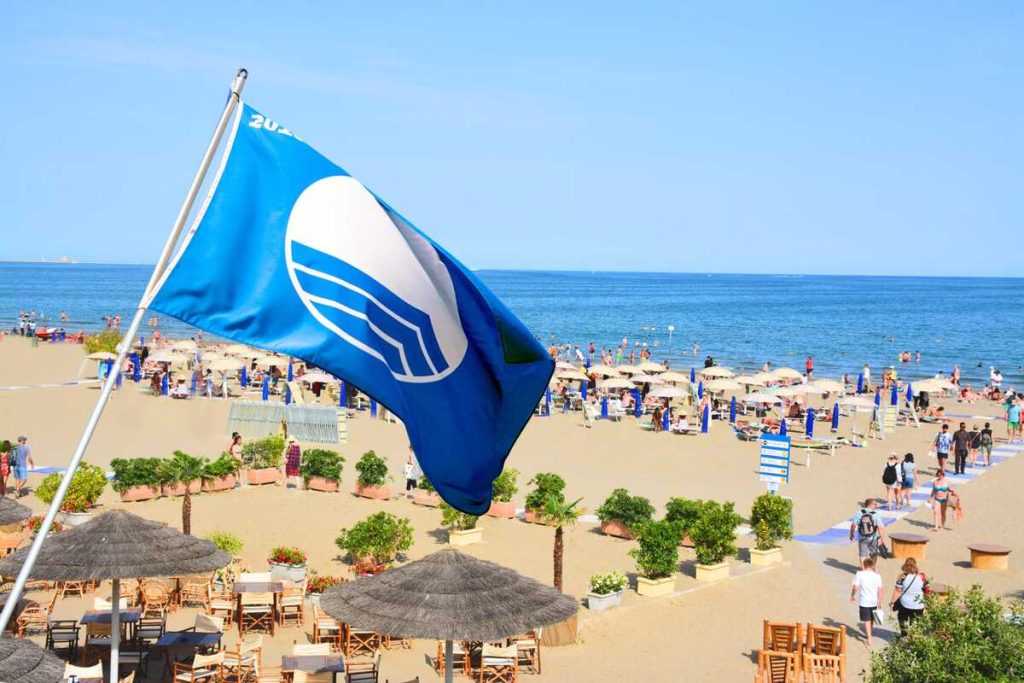 Blue Moon beach is located on the side of the open sea and not towards the lagoon, so you should take advantage of the marvelous view of the sea to infinity. Keep in mind that it's the most loved beach by the Venetians, so it can get crowded. In summer, the whole city comes here both to rest and to escape the invasion of tourists who fill Venice's main island.
If you are looking for the less frequented and wilder beaches, check out those in front of the Alberoni pine forest, in San Nicolò, and along the Murazzi. While Alberoni and San Nicolò beaches have sand dunes, Murazzi beach has big white Istrian rocks.
Rent a bike
The best way to discover Lido is to rent a bike. This way, it is easier to reach the most distant areas without depending on buses and boats. You can rent a bicycle in different places around the island, but the one is surely right next to the main ferry stop. Cycling is a fun experience to enjoy as a couple, with family or friends, while discovering the beauties of Lido in a healthy way.
All roads are flat, with little traffic, and very wide for a safe and relaxed ride. You can choose to rent by the hour, for a couple of hours, or for the whole day. Therefore, choose sustainable tourism, have a great time, and lots of joy await you on the bike.
Visit the village of Malamocco
An island within an island, Malamocco, is separated from the Lido by a narrow channel. It was the first historical settlement of Venice, dating back to Roman times when it was called Metamaucum. Malamcco was even the capital of the Duchy of Venice until the 9th century when it began its decline caused mainly by sea erosion.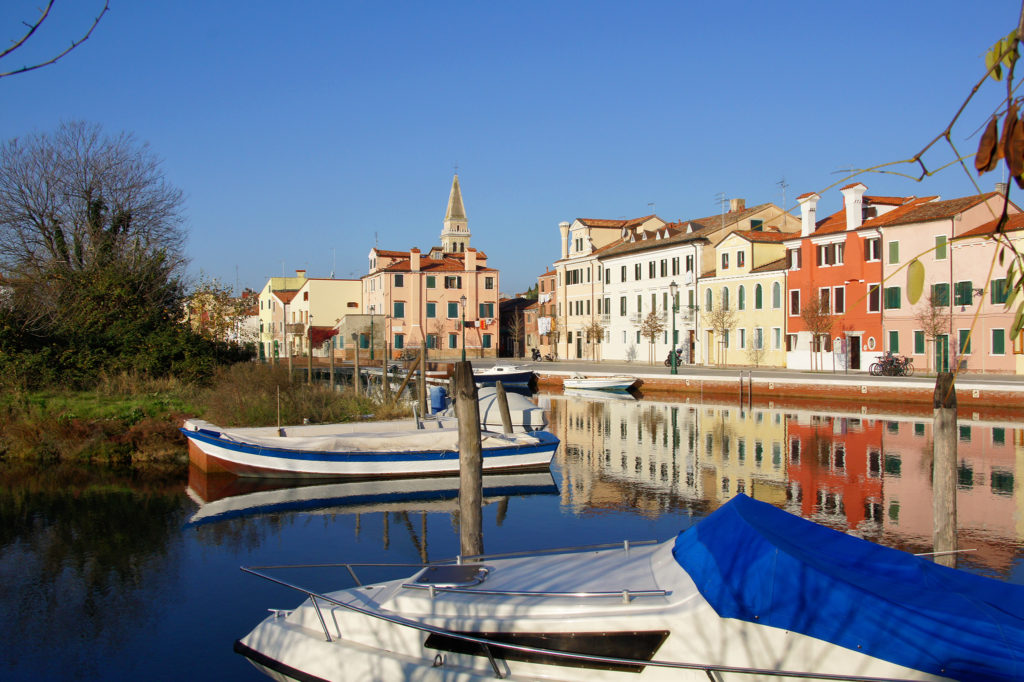 Nowadays, Malamocco is a small charming mini Venice with a central square, a Veneto-Byzantine style church, old colorful buildings, a lovely bridge, canals, and typically Venetian narrow little streets called "calli" by the locals. The first impression of a village is that Malamocco is a quiet place in the middle of nowhere.
But then, as you walk around, you discover an authentic village, away from crowds, where every corner is linked to a story, especially to the saga of the Alberti family. Overall, Malamocco is a great place to spend an hour or two, grab a pizza or a drink, and wander through the narrow streets where Venetians live.
Take a stroll along the main street
The main street on Lido is called Viale Santa Maria Elisabetta or commonly known as "Gran Viale." It is 700 meters long street that crosses the island from coast to coast and links the Vaporetto station to the beach. Along the street are located numerous hotels, shops, and restaurants.
This street is actually the center of Lido and a place where locals and tourists meet up, have lunch, or hang out at night. Therefore, you should visit this lively place and take a long casual stroll along it.
Explore Chiesa di San Nicolo al Lido
In the northern part of the Lido, located in a beautiful quiet place surrounded by the sea, there is a church of San Nicolo. It was built in 1044, but the current church was rebuilt in 1627 next to a pre-existing Benedictine monastery. The church is quite large, ancient, and with a simple brick facade. Inside, there are some relics of San Nicola and beautiful paintings on the walls.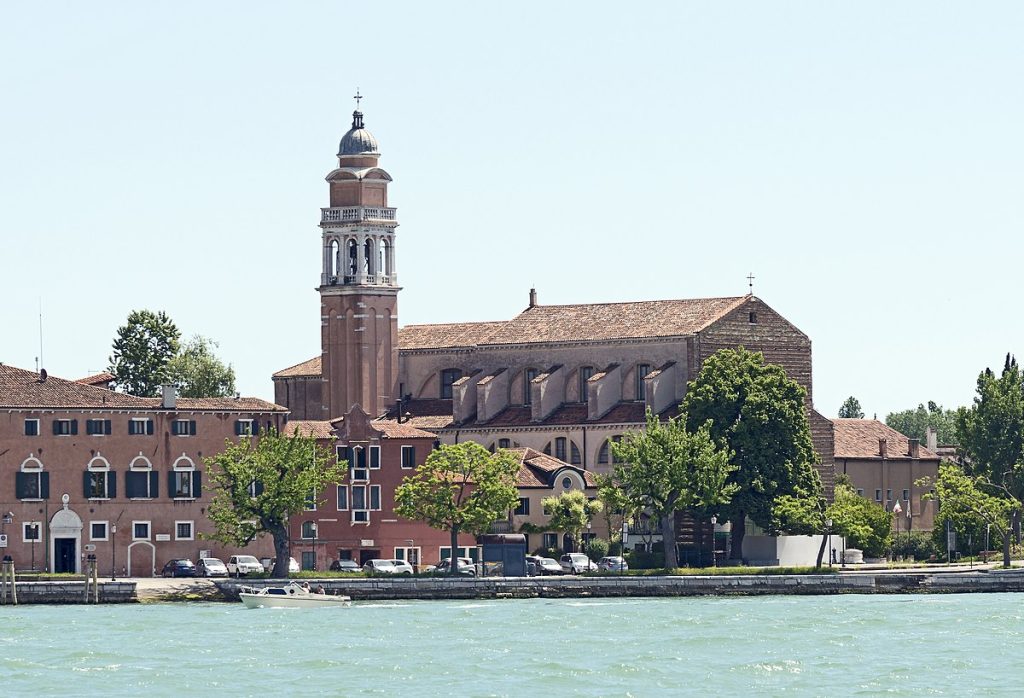 Those who love art should not miss the two most important paintings: a Madonna with putto by Palma il Vecchio and a San Giovannino by Palma il Giovane. San Nicolo church is open to the public for free, and it is open Monday to Saturday from 8:00 AM (8:00 hours) to 12:00 PM (12:00 hours) and from 3:00 PM (15:00 hours) to 6:00 PM (18:00 hours).
Admire Grande Albergo Ausonia Hungria
On the main street, you will come across the enormous and elegant Grande Albergo Ausonia Hungaria hotel from 1905. It is filled with a luxury design from the 20s and 30s of the twentieth century when beaches of Lido were crowded by wealthy and cultured travelers who spent long months in this magnificent hotel.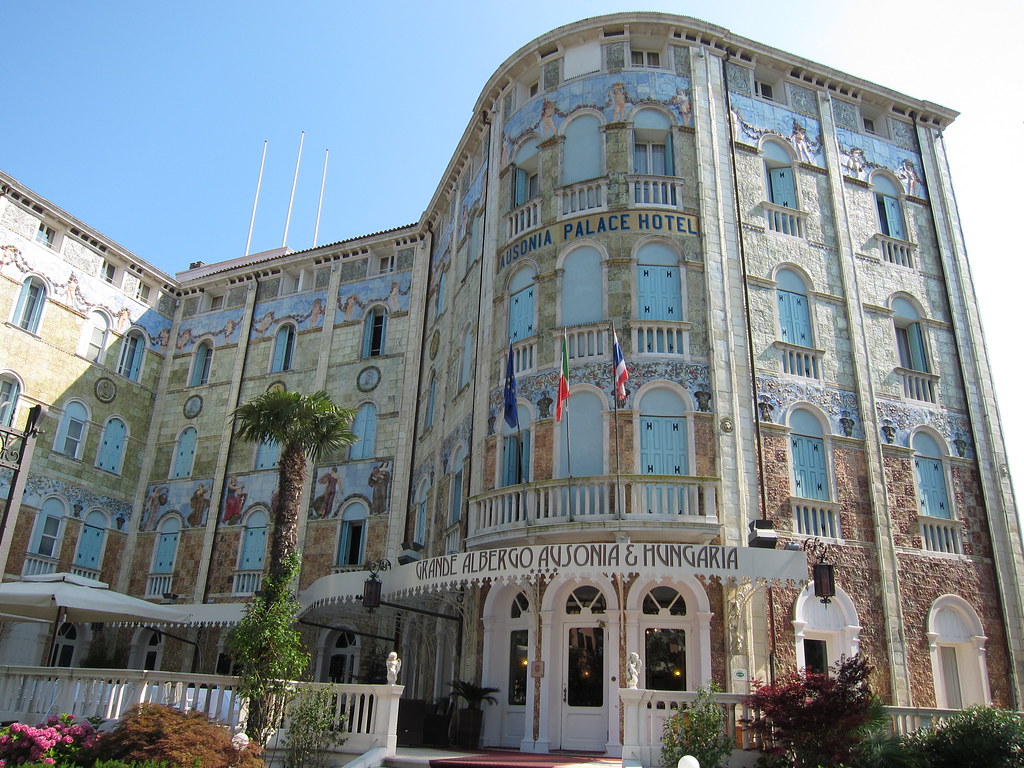 The hotel is a wonderful example of the Modernist or Art Nouveau style. Even if you don't stay in this hotel, you can still be struck by its beautiful facade from the outside, or you can go inside to explore.
Go to the Venice Film Festival
Every year between the end of August and the beginning of September, Lido hosts the Venice Film Festival, which attracts thousands of tourists and enthusiasts. Along with Cannes and Berlin, the film festival in Venice is one of three big film festivals in Europe and one of the oldest of its kind.
Whether you are planning to get your hands on tickets to a screening or just want to see which famous movie stars you might spot, Venice Film Festival is an event everyone should attend. Therefore, September is clearly the best time to go to Lido for cinema and celebrity lovers.
Stop at the Jewish Cemetery
Jewish Cemetery in Lido is one of the oldest Jewish cemeteries in Europe. It is located in the San Nicolò area, and you can reach it by walking along the promenade for 20 minutes or by taking a bus from the Vaporetto station. Actually, there are two Jewish cemeteries. One from the 14th to the 17th century goes like a wall directly onto the dam, and the other has been next to the modern Lido cemetery since the 18th century.
You cannot visit the older one if you are not an organized group, but the younger one is open to the public. There is a lot of greenery around the cemetery, so it attracts people who like peacefully walking in nature.
Check out the Alberoni dunes
The Alberoni dunes are located at the southern end of the Lido, and they are one of the largest dune systems of the upper Adriatic. They stand next to the famous Alberoni dam, which you can cycle to the lighthouse. Here you will see unique flora and fauna, a vast system of dunes with some up to ten meters high, and paths that cross a large pine forest of about 30 hectares.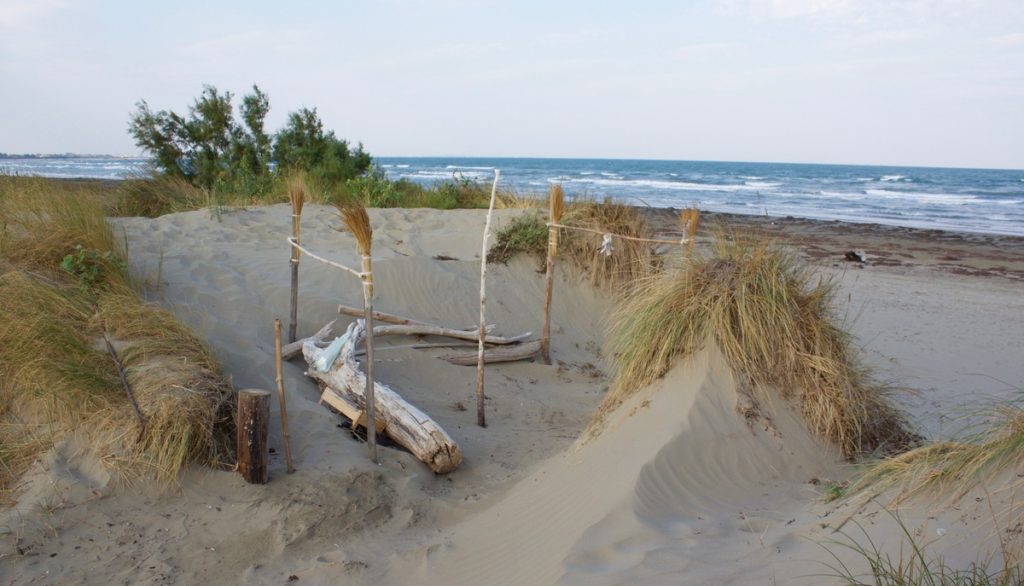 Also, in this diverse ecosystem, you can find protected Kentish Plover and Little Tern bird species. In front of the dunes is a wide strip of sand where you can walk barefoot. Access is free and always open, and the only rule is to walk along the indicated paths and not throw your leftovers into nature.
Play the golf
Finally, you can visit a golf club on Lido, one of the oldest in Italy, whose length is 6039 meters by usual standards. It was built in 1928, expanded to 18 holes in 1951, and is located on the edge of the Alberoni natural oasis. According to legend, this golf club was created by the car tycoon Henry Ford on the ruins of an Austrian fort.
It was frequented by famous guests and was even chosen by Hitler and Mussolini for their first secret meeting. Players can enjoy a challenging course while non-players can relax in a pleasant restaurant and bar.
What to do in Lido Venice at night?
If you wonder what to do in Lido Venice at night, here is the answer. There is not much to do other than peacefully walk around or have a drink in one of the bars on the main street. Therefore, Lido at night is only suitable for those who are not into partying or meeting new people. If you want better nightlife, we recommend going with Vaporetto to the main Venice island. Daily night lines run from and to Lido until 4:00 AM (4:00 hours).
Check out more articles about Venice:
Hey there! Some links on this page are affiliate links which means that, if you choose to make a purchase, we may earn a small commission at no extra cost to you. We greatly appreciate your support!