While exploring Venice's charming canals and architecture, why not enhance your experience by eating as the locals do? As in many Italian regions, the city has developed its own unique cuisine. There's a huge variety of local dishes. Based mostly on seafood ingredients like sardines and cuttlefish but also other exciting elements such as liver, there are plenty of unique Venetian creations for you to try!
You can sample delicious Venetian and other Italian delicacies in the many eateries located around town. Almost all tourists in town will eventually end up near Piazza San Marco (aka. St. Mark's Square). Home to the famous Basilica of the same name, the area is the heart of Venice's city life, with endless attractions and food options nearby.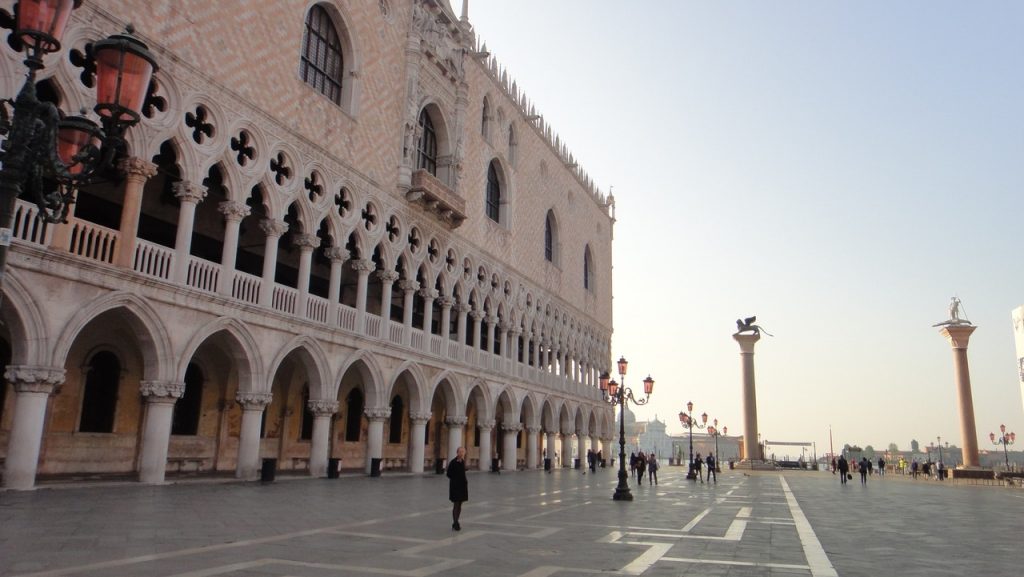 However, knowing Venice's reputation as a tourist city, lots of restaurants are tourist traps with high prices and bad food quality. If you want to know where you can eat a quality meal around Venice's center, read our guide about the best restaurants near Piazza San Marco in Venice.
(This article contains 5 restaurants near Piazza San Marco in Venice, which are best in our subjective opinion. The order of the restaurants is not related to the quality they offer. Every restaurant has its pros and cons, so choose the one based on your personal preferences.)
Ristorante La Piazza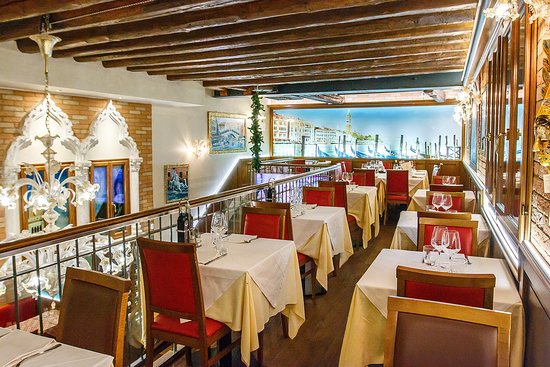 As its name suggests, this Venice eatery is just a stone's throw away from the city's most famous square. The restaurant offers an authentic Venetian dining experience that has earned several awards and accolades, including winning the Traveler's Choice distinction from Tripadvisor for several years.
Their spacious interior has a modern, relaxing appearance that can accommodate a small dinner date, families, or big groups. The restaurant doubles in size during the warm season when its large patio opens up. Venice cuisine is well represented in the menu, but you can try a multitude of dishes from across Italy here!
They have a huge selection of fish and meat dishes, but also pasta, salads, and pizzas. Set off on your culinary journey with one of their dozens of starters, such as marinated anchovies or fried sardines with pine nuts, onions, and raisins– both are local delicacies after all!
As in most typical Italian dinner spots, guests are encouraged to order multiple courses. Most of their first courses involve pasta, such as bigoli in sauce or lasagna Bolognese. The second courses here focus more on the meat, so you can indulge in local seafood like grilled seabass or calamari, or a sirloin steak if you don't feel like having fish.
Servers are top-rated for their politeness and attentiveness. They're always eager to give recommendations when asked and serve with a smile. The restaurant is open daily from 11:00 AM (11:00 hours) to midnight. Due to its location, they're almost always busy. It's a good idea to book your table in advance. This can be done by calling the restaurant or using the online reservation widget found on their website.
Distance: 200 meters (0.1 miles) from St. Mark's Square
Phone: +39 041 523 1100
Osteria Enoteca San Marco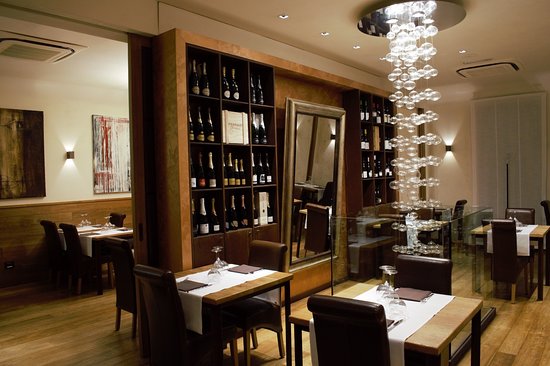 Just two minutes away from St. Mark's Square by foot, this local haunt has been serving up local classics with innovative twists for twenty years. Founded by four friends, the restaurant's modern, minimal interior was turned out of a historic inn building.
The owners insist on using the best, most flavorful ingredients all the time and never settle for less. As a result, the menu changes with the seasons. Depending on when you visit, your choice of starters may be tandoori octopus, baccalà (Venetian cod purée), or a house creation like eggplant pudding with blue cheese and anchovy!
Their first-course pasta menu has something for everyone. Try some local flavors like tagliolini with king crab and zucchini flowers. However, there are plenty of classic pasta dishes with tomato sauces if that's more to your liking.
The second-course selection is usually small and reflects seasonal availability more. However, for most of the year, you can get delicious grilled squid or try monkfish caught from the nearby Venice lagoon. If seafood isn't for you, try the most famous Venice staple from dry land– liver and onions! For those less brave, grilled lamb chops are another great choice.
Not sure what to choose? No problem! Ask the waiter for advice, and they'll be happy to oblige. They're extremely knowledgeable about the menu and their massive wine selection and seem to have a special knack for finding out exactly what you need.
They're open daily from 12:30 PM (12:30 hours) to 2:30 PM (14:30 hours) and for dinner from 7:00 PM (19:00 hours) to 10:30 PM (22:30 hours). Due to the restaurant's popularity and location in a busy area, a reservation is recommended. Book your table by calling or emailing them. Contact information can be found on their website.
Distance: 200 meters (0.1 miles) from St. Mark's Square
Phone: +39 041 528 5242
Ristorante Da Toto
This restaurant isn't typical of the restaurants in the neighborhood. Despite being in Venice's busiest district, it's located just out of sight on a quieter side street. This provides a peaceful atmosphere where you can enjoy a brief respite from the crazy crowds and get a tasty meal!
The restaurant's small interior makes for an intimate dining room that doesn't get too crowded.
The enclosed veranda provides a further escape from the madness– you will forget you're next to St. Mark's Square when dining in this quiet little courtyard! The chefs have prepared another unique offer that sets them apart from other neighborhood eateries. Located in the dining room is a special device called Lo Stagiatore.
Lo Stagiatore is a glass showcase where guests can hand-pick aged meats prepared onsite. You can choose from massive lamb chops, beef sirloin, and many more! The selection varies based on what the restaurant can get ahold of, but visit any time, and you're sure to see the lovely glass case full of delicious-looking aged cuts.
Besides their aged meat cuts, there's a full menu with Venetian and other Italian specials. Sample a range of fresh pizzas with seafood or vegetarian toppings. For more local flavors, try their famous seafood risotto or maybe spaghetti with mussels!
The restaurant is open daily from 12:00 PM (12:00 hours) to 3:00 PM (15:00 hours), and from 7:00 PM (19:00 hours) to midnight. On Mondays, they're only open for lunch. Because of the restaurant's small size, you should reserve to guarantee your spot at a table. You can do so via a contact form on their website.
Distance: 200 meters (0.1 miles) from St. Mark's Square
Phone: +39 041 523 5917
Ristorante Centrale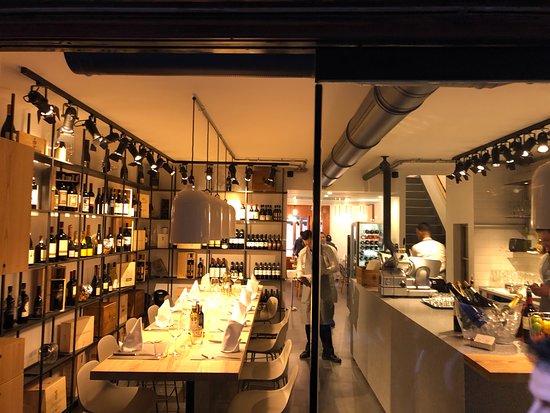 Just a 2-minute walk from St. Mark's Square, this restaurant prides itself on providing a quiet little haven to enjoy a meal in the heart of Venice. Like some of their contemporaries in the culinary scene, they like to give traditional recipes a "modern makeover."
This translates to incredible food served in a beautiful restaurant that gives the impression that you're sitting in an art studio.
Black-and-white photos of Venice cover the white walls while minimalist light fixtures hang from beams overhead. Their interior even appears to open out into the street, making you feel as though they're extending an invitation to you.
If the interior convinces you to stop by, the food will keep you coming back! They throw unexpected twists into classic flavors to craft your dining experience. Why not start with a 24-months aged ham with melon? Next, get a San Marco pizza topped with smoked tuna carpaccio for the table.
Their pasta first courses seem like familiar recipes, yet they always have some new tastes added to the mix. For example, their black risotto comes with curried shrimp in the mix, an unusual spice in Italian cuisine. Truffle lovers ought to pay a visit to the restaurant, as many pasta and meat dishes feature tasty little morsels!
The kitchen is open daily from 11:00 AM (11:00 hours) to 11:00 PM (23:00 hours). Though touted as a quiet spot, the restaurant certainly is no secret! Plenty of locals and tourists come here, so reserving a table is a sure way to guarantee your place at the table.
Distance: 150 meters (0.1 miles) from St. Mark's Square
Phone: +39 041 237 9661
Al Chianti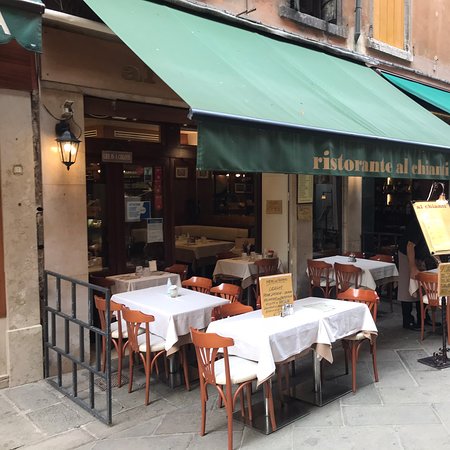 Located within sight of St. Mark's Square, this restaurant is extremely popular among tourists and locals alike. They offer Venetian and pan-Italian favorites in a cozy, homely environment.
The locale is small but inviting. Sitting at one of their few tables, you will be surrounded by old photos of the city hanging from rustic, wood-paneled walls. The dining room provides an intimate atmosphere for an unforgettable dining experience. In the summer, their small patio opens up, offering a unique view of the main street.
Staff members are distinguished by their attentiveness and friendly service. Not all tourist-catering restaurants can make this claim. However, you will be in good hands should you choose to dine here.
The restaurant is a great place to get acquainted with Venetian dishes. They serve all the classics, from ink pasta to seafood risotto, liver, and onions! There's something for everyone here. Dining with picky eaters? They have a variety of pizzas and even schnitzel with fries to satisfy any palate.
Most Italian restaurants don't have such long hours. Still, because it's located in a busy area, Al Chianti is open Monday through Saturday from 9:00 AM (9:00 hours) to 11:00 PM (23:00 hours) so that they can welcome and satisfy as many guests as possible with their friendly service and mouth-watering, authentic cuisine! For the best chances of being seated in such a crazy neighborhood, reserve your table by calling ahead of your visit or using their online booking platform.
Location: Calle Larga San Marco 655
Website: none
Distance: 150 meters (0.1 miles) from St. Mark's Square
Phone: +39 041 522 4385
Where are the best restaurants near Piazza San Marco in Venice?
Piazza San Marco, or St. Mark's Square, is the main and most popular square in Venice. The square is often full of tourists, so it is no wonder that there are many restaurants in the surrounding. But don't make rush decisions because most restaurants are probably tourist traps. The best ones are usually located in quiet streets, so you have to open a GPS to find them. Also, always check menus and prices on the internet because the restaurant's look doesn't reflect their prices.
Check out more articles about Venice:
Hey there! Some links on this page are affiliate links which means that, if you choose to make a purchase, we may earn a small commission at no extra cost to you. We greatly appreciate your support!